Mr Bags
12 Large Barrels of Slime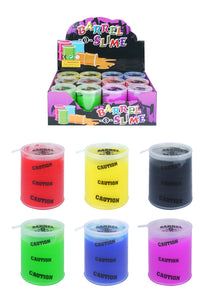 Forget, how to make slime
Worried what to put inside your party bags? forget about how to make slime as we are selling 12 Large Barrels of slime for absolutely nothing. We are your slime shop for your party. These slime barrels are great party bags fillers, fun, make great gifts, party treats, and lucky-dip prizes. Each barrel is 7cm long and 5cm wide. Available in 6 assorted colours. Kids love this slime and they play with it for hours and never let it go.
Get ready for a squishy and sensational experience with our amazing collection of slime! As one of the most popular party bag fillers, our high-quality slime is loved by kids and sought after by parents for its endless fun and entertainment. Let's dive into the world of slime and explore why it's the perfect choice for your party bag needs.
Colourful Slime Delight: Our vibrant and colourful slime comes in a mesmerizing array of hues that will captivate the imaginations of children. From electric blues to neon greens and dazzling pinks, our slime offers a visual treat that instantly sparks joy and excitement.

Sensory Play Sensation: Slime is not just visually appealing; it also offers a unique tactile experience that kids adore. Its stretchy, squishy, and gooey texture provides endless possibilities for sensory exploration and play. The satisfying feeling of squishing and shaping slime is a source of great amusement and relaxation for children of all ages.

Safe and Non-Toxic: We understand that safety is a top priority for parents, and that's why our slime is made using non-toxic and child-friendly materials. You can have peace of mind knowing that our slime has undergone rigorous testing to ensure it meets the highest safety standards, providing a worry-free playtime experience.

Creative Possibilities: Slime is not just a fun toy; it's also a catalyst for creativity. Kids can use their imaginations to create shapes, molds, and even mix different colours of slime together to form unique creations. It's an excellent tool for enhancing fine motor skills and encouraging imaginative play.

Party Bag Filler Extravaganza: Whether you're hosting a birthday bash, a school event, or a fun-filled gathering, slime is an ideal party bag filler that will leave a lasting impression. Each child will have their own little pot of delight to take home and enjoy long after the party ends, keeping the excitement alive.

Educational Benefits: Slime offers more than just entertainment; it also provides educational benefits. As children play with slime, they can learn about concepts such as viscosity, elasticity, and colour mixing. It's a hands-on way to explore scientific principles in a fun and engaging manner.

Perfect for Any Occasion: Slime knows no boundaries when it comes to parties. It's a versatile party bag filler that suits various themes and celebrations, whether it's a superhero extravaganza, a princess party, or a fun-filled slime-themed event. It's a sure-fire way to add an element of surprise and delight to any gathering.
So, if you're looking to add a touch of excitement and wonder to your party bags, our high-quality slime is the ultimate choice. With its vibrant colours, sensory play benefits, and endless creative possibilities, it's no wonder that slime has become a beloved party bag filler.
Shop our collection of slime today and let the giggles and gooey adventures begin!