Mr Bags
Fragile Packing Tape 48MM x 92 Meter's (100 Yards)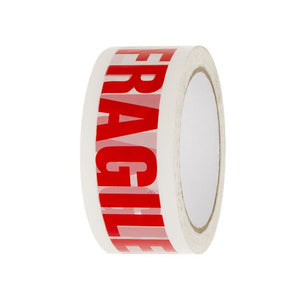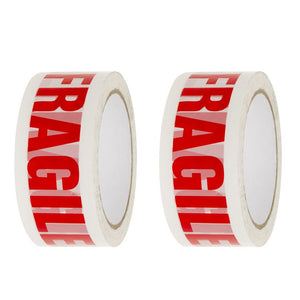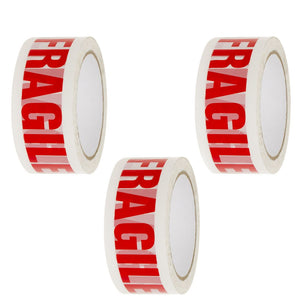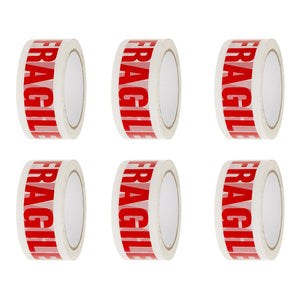 Mr Bags
Fragile Packing Tape 48MM x 92 Meter's (100 Yards)
Regular price
$7.00
Sale price
$3.00
Save $4
Save $7
Save $10
Save $26
Guaranteed safe & secure checkout
Best F
ragile Tape for shipping delicate items
Introducing our exceptional fragile packing tape, the ultimate solution for secure and reliable packaging! Unlike most brands that offer a standard roll of 66 meters, our fragile packing tape goes above and beyond with an impressive length of 92 meters (100 Yards), ensuring you have ample tape to protect your valuable shipments. Crafted from premium biaxially oriented polypropylene (BOPP) and measuring 50 microns in thickness, our fragile packing tape is designed to provide superior strength and durability while delivering a clear message of caution. Say goodbye to worries about breakage – our tape adds an extra layer of protection to your packages.
Product Features


Why choose our Fragile Packing Tape?
The answer is simple – it provides unparalleled protection that gives you peace of mind during shipping. Designed specifically for fragile items, this tape is reinforced with a high-tensile strength adhesive that securely seals your packages, safeguarding them against accidental bumps, drops, and mishandling. Whether you're a business owner shipping products or an individual sending gifts, our Fragile parcel Tape helps maintain the integrity of your items.
Tips for choosing the right fragile tape for your packaging needs
Here are some key features and benefits of our Fragile packing Tape that make it a standout choice for all your packaging needs:
Extra Length for Extra Protection: With 92 meters of tape per roll, our fragile tape roll offers 40% more length than the standard options available in the market. This extended length ensures you can seal a greater number of packages with a single roll, saving you time and effort.

Superior Strength and Durability: Made from high-quality biaxially oriented polypropylene, our fragile tape roll is engineered to withstand the rigors of shipping and handling. It adheres firmly to a variety of surfaces, providing a strong and secure seal that protects your packages during transit.

Bold Fragile Warning: The vibrant red background and bold, highly visible "Fragile" text on our tape act as a visual warning to handlers, alerting them to exercise caution while handling delicate or sensitive items. This helps reduce the risk of mishandling and potential damage during transportation.

Clear and Consistent Message: Our fragile parcel tape conveys a clear message that is universally recognized. It eliminates any confusion or ambiguity, ensuring that your packages receive the attention and care they deserve, reducing the chances of accidents or breakages.

Versatile and Practical: Our Fragile Tape is suitable for a wide range of packaging needs, including shipping fragile items, handling delicate electronics, and protecting valuable or breakable goods. It can be used for both residential and commercial purposes, making it an ideal choice for individuals, small businesses, and large enterprises alike.

Easy Application and Removal: Each of our Fragile Tape roll features a strong adhesive backing that adheres smoothly and securely to various surfaces, including cardboard, plastic, and metal. It offers excellent tackiness while maintaining ease of application. When it's time to remove the tape, it comes off cleanly without leaving behind any residue or causing damage to the packaged items.

High-Quality Manufacturing: We take pride in ensuring that our Fragile Tape meets the highest standards of quality and performance. Each roll is carefully manufactured to deliver consistent thickness, superior adhesion, and excellent tear resistance, providing you with a reliable and dependable solution for your packaging requirements.

Waterproof: 

Our fragile tape boasts remarkable waterproof properties. It is specifically designed to withstand even the harshest environmental conditions without compromising its adhesive strength. Whether exposed to rain, moisture, or high humidity, our tape remains intact and provides excellent sealing capabilities. Its waterproof nature ensures that your packages and boxes are well-protected, preventing any damage or loss due to water infiltration.
Where to buy high-quality fragile tape? 
Invest in our premium fragile packing tape to provide an extra layer of protection for your valuable shipments. With its extended length, exceptional strength, and clear warning message, our tape ensures that your packages are handled with care from start to finish. Order your roll of high-quality Fragile Tape today and experience the difference it makes in safeguarding your parcels during transit. Order 6 Rolls for £9.99 each. It is impossible to find 6 Rolls of 92 meters each for £9.99. Order Yours Now
Fragile Tape FAQ's
What is fragile tape for?
Fragile tape is specifically designed to alert handlers and shippers that the package contains delicate or breakable items. It's used for packaging and shipping fragile goods, such as glassware, electronics, artwork, or items that require special care during transit. The bold "Fragile" print on the tape serves as a clear warning to handle the package with care, helping to minimize the risk of breakage or damage during transportation. It's an essential tool to ensure that delicate items arrive safely and intact at their destination.

Does fragile tape make a difference?
Absolutely, fragile tape makes a significant difference when it comes to shipping delicate items. By using fragile packing tape, you provide a clear and visible signal to handlers that the contents of the package require special care. This awareness prompts shipping personnel to handle the package with greater caution, reducing the risk of mishandling, dropping, or rough treatment that can lead to breakage or damage.
Fragile tape not only helps protect your items but also enhances your packaging's professionalism and care. It reassures both the sender and the recipient that every effort has been made to ensure the safe arrival of the contents. In a world of fast-paced shipping and handling, using fragile tape can mean the difference between items arriving in pristine condition or being subject to unnecessary stress during transit. It's a simple yet highly effective way to safeguard your valuable and delicate shipments.
Is Fragile tape waterproof?
 Yes, many types of fragile tape are designed to be waterproof. This feature ensures that the tape remains effective and visible even in various weather conditions or during transit in wet environments. Waterproof fragile tape maintains its adhesion and clear "Fragile" warning, offering reliable protection to delicate items regardless of the conditions they encounter during shipping. Always check the product specifications or labels to confirm if a specific fragile tape is labelled as waterproof to ensure the best performance for your needs. Our fragile parcel tape is 100% waterproof.

Similar products
Customers who viewed this item also viewed