Mr Bags
Temporary Tattoos Sheet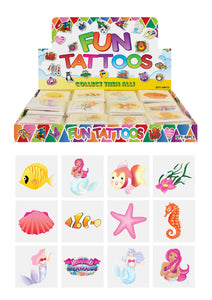 Party Bag Fillers
Worried what to put inside your party bags? Why not some Tattoos, kids love these tattoos and the price is absolutely nothing. We are your number one party bag filler shops. These tattoos stickers are great party bags fillers, fun, party treats. Kids love these party tattoos stickers and they play with it for hours and never let it go. These colourful tattoos sticker sheets are great for arts and crafts projects, party treats, loot bag fillers, prizes, and gifts. They are easy to apply and each tattoo has full instructions. Size: 4cm x 4cm. Assorted designs in packs of 12.
Get ready to add a dash of temporary coolness to your party bags with our fantastic collection of tattoos stickers! As a highly sought-after choice for party bag fillers, our tattoos stickers are loved by kids and sought after by parents for their ability to bring fun and creativity to any celebration. Let's dive into the world of tattoos stickers and explore why they are the perfect choice for your party bag needs.
Trendy Tattoo Designs: Our tattoos stickers feature an array of eye-catching designs that are sure to impress kids of all ages. From cool superheroes and cute animals to glittery patterns and enchanting unicorns, our collection offers a wide range of options to suit every style and preference.

Easy to Apply and Remove: Our tattoos stickers are designed for hassle-free application and removal. With a simple application process using water, kids can proudly display their temporary tattoos on their skin. When the party is over, they can be easily removed with soap and water or a gentle wipe, leaving no residue behind.

Safe and Non-Toxic: We prioritize the safety of children, and that's why our tattoos stickers are made from non-toxic materials that are safe for their delicate skin. We ensure that our tattoos meet the highest safety standards, providing parents with peace of mind while their little ones enjoy their temporary body art.

Endless Party Fun: Tattoos stickers offer a world of imaginative play and self-expression. Kids can become their favorite characters, superheroes, or even create their own unique designs. They can proudly wear their tattoos during the party, instantly adding a touch of excitement and personal flair to their outfits.

Versatile and Perfect for Any Occasion: Tattoos stickers are a versatile choice for party bag fillers that can enhance various themes and celebrations. Whether it's a birthday party, a school event, or a special gathering, these tattoos stickers can add an element of surprise and delight to the festivities.

Party Bag Filler Extravaganza: Each party bag can become a treasure trove of tattoos stickers, providing young guests with a collection of cool and trendy designs to enjoy. These tattoos will be a memorable takeaway that allows kids to continue the party spirit long after the event has ended.

Trade and Share: Tattoos stickers offer an interactive and social element to the party experience. Kids can trade and share their tattoos with friends, fostering a sense of camaraderie and excitement. It's a great opportunity for them to engage with each other and create lasting memories.
With our tattoos stickers, your little ones can embrace their creativity, showcase their style, and have a blast at any party. Add a touch of temporary coolness to your party bags and watch as their faces light up with joy.
Shop our collection of tattoos stickers today and let the tattoo adventure begin!