Mr Bags
Hazard Tape Caution Tape, 6 Rolls for £4.99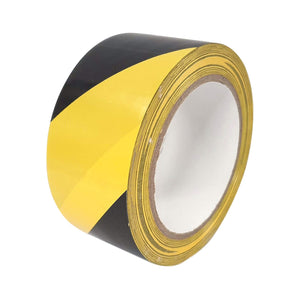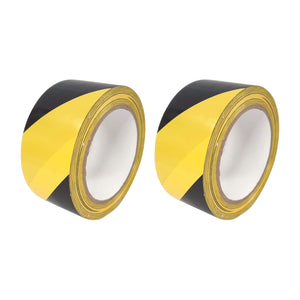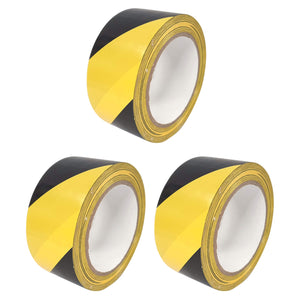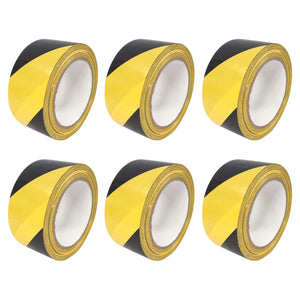 Mr Bags
Hazard Tape Caution Tape, 6 Rolls for £4.99
Regular price
$7.00
Sale price
$2.00
Save $5
Save $10
Save $16
Save $32
Guaranteed safe & secure checkout
Hazard Caution Tape
Introducing our top quality hazard warning tape, also known as Caution tape or floor marking tape Tape, the essential safety solution for any workplace or construction site. Designed to meet the highest industry standards, ensuring your safety needs and provide clear visual guidance in any environment. With its high-contrast black and yellow colours, our tape is a standout choice for effectively marking hazards and danger zones. Whether used indoors or outdoors, our hazard tape is designed to offer optimal durability and visibility, helping you maintain a secure environment.
Thickness and Dimensions
Our Hazard Warning Tape boasts impressive durability with a thickness of 130 microns, ensuring it stands strong against wear and tear. Measuring 48mm in width and extending up to 33 meters in length  without worrying about it wearing out. It's tough, it's wide, and it's got your safety covered.
Convenience and Compatibility
Our Hazard Warning Tape is designed for convenience and compatibility. Thoughtfully designed with a width of 48mm, it perfectly fits your 48mm tape gun, ensuring easy application and efficient marking of hazardous areas. Experience hassle-free application, effortlessly mark hazardous zones and create safety barriers with ease, thanks to the seamless compatibility of our tape with your tape gun. Simplify the process and enhance safety measures effortlessly with our user-friendly Hazard Warning Tape.
Key features of our Barrier Tape
Here are some of the key features and benefits of our safety and hazard warning tape:
High Contrast Colours: The bold black and yellow combination of our hazard tape ensures maximum visibility, even in low-light conditions. These high-contrast colours attract attention, instantly alerting individuals to potential hazards and danger areas.

Versatile Usage: Our caution tape is suitable for a wide range of applications, both indoors and outdoors. It is ideal for marking out potential hazards, creating walkways, cordoning off restricted areas, highlighting stairs, and indicating caution zones in workplaces, construction sites, warehouses, schools, and more.

Premium Material: Crafted from high-quality PVC, our safety tape is built to withstand various environmental conditions. It is resistant to abrasion, moisture, and most chemicals, ensuring long-lasting performance even in demanding settings.

Optimal Thickness: With a thickness of 130 microns, our barrier tape offers excellent durability and strength. It provides a sturdy barrier, capable of withstanding foot traffic, heavy machinery, and other potential impacts, maintaining its visual presence and safety message over time.

Easy Application: Our adhesive hazard tape features a super sticky adhesive backing that ensures a strong and reliable bond to a variety of surfaces, including concrete, tile, wood, and metal, floors, walls, and equipment. Its reliable grip prevents accidental removal and guarantees long-lasting performance, even in high-traffic areas.

Clear Warning Message: The black and yellow colour scheme of our tape is universally recognized as a warning sign. Its clear visual message helps prevent accidents and promotes a safe environment by alerting individuals to exercise caution and remain aware of their surroundings.

Long-Lasting Performance: Our safety and floor marking tape is designed for durability, providing a long-lasting solution for your safety needs. It withstands heavy foot traffic, cleaning, and general wear and tear, ensuring its visibility and effectiveness for an extended period.
What makes our Hazard Warning Tape a great choice for you?
This adhesive hazard tape doubles as caution tape, barrier tape, warning tape, floor tape, and safety tape, catering to various safety needs. Don't compromise on safety Our Hazard Warning Tape stands out as an exceptional choice due to its durable 130-micron thickness, ample 48mm width, and extended 33-meter length. Its versatility in marking hazards and ensuring safety in various settings, from workplaces to public areas, showcases its effectiveness. Furthermore, our limited-time offer of 6 rolls for only £4.99 in our clearance sale enhances its value proposition, making it an unbeatable solution for your safety needs.
FAQ's about Hazard Tape
What is hazard tape used for?
Hazard tape is used to mark potentially dangerous areas, objects, or zones. It serves as a visual cue to alert individuals of potential hazards and promotes safety by reducing the risk of accidents.
What do the different colours of hazard tape mean?
Different colours of hazard tape often signify specific types of hazards. The black and yellow combination, like our tape, typically indicates a general caution or potential hazard.
What is the caution or hazard tape?
Caution or hazard tape is a highly visible adhesive tape used to indicate potential dangers, guide safe navigation, and prevent accidents. It is commonly seen in workplaces, construction sites, and public spaces.
What is black and yellow hazard tape?
Black and yellow hazard tape features alternating black and yellow stripes, creating a visually striking pattern. This colour combination is recognized internationally as a caution sign, effectively signalling the presence of a potential hazard.
Looking for Fragile Tape?
If you're prioritizing safety, you'll want to explore our Fragile Tape too. Measuring 48mm x 92m, it's perfect for securing delicate items during shipping. Whether it's fragile glassware or sensitive electronics, our Fragile Tape provides that extra layer of care. Extend your commitment to safety and ensure your packages arrive intact. Go ahead, take a step further in safeguarding your shipments with our reliable Fragile Tape. Order now and keep your valuables in safe hands.
Similar products
Customers who viewed this item also viewed